The Percival Library: November/December news
14 December 2020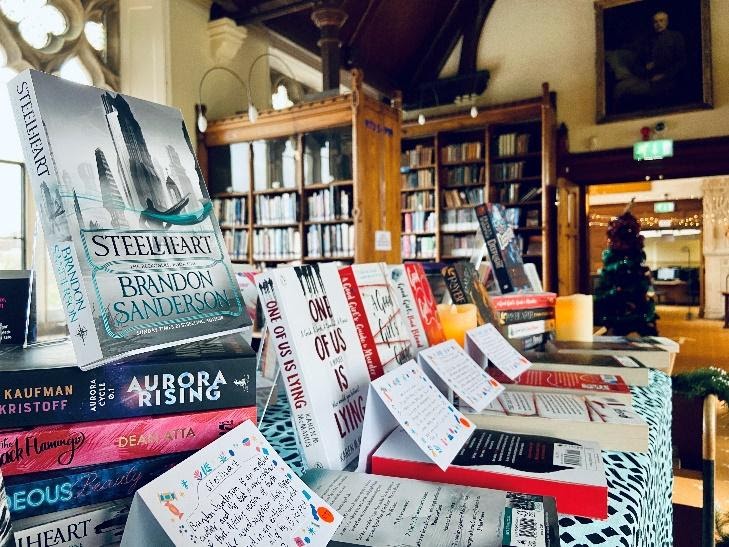 Winter Book Fair
The Percival Library's Winter Book Fair gave pupils and staff alike a perfect opportunity to browse a curated selection of books, picking up presents for family and friends and some literary treats for themselves. A special late night opening on 24th November provided extra treats for book enthusiasts – their browsing experience enhanced by the addition of mince pies, candlelight and festive tunes. Books were supplied by local independent bookshop Storysmith and 10% of every sale will support BookTrust's Christmas Appeal, raising money to send book parcels to children who are vulnerable or in care.
Battle of the Books
Third Form were tasked with fighting a battle like no other, a battle for the best book genre! From comedy to horror, pupils scripted, choreographed, collected props and costumes, and finally filmed and acted out a short promotional video for their genre. The winner was announced at the launch of our annual reading competition, The Great Clifton Read Off, and congratulations go to Mr Bull and Mr Harris's class for their wonderful horror video.
Spelling Bee
Arguably Clifton College's most prestigious prize, the annual Inter-House Spelling Bee saw spectacular (socially distanced) spellers fly through the qualifying round and into the American-style final. This year, two of our contestants zoomed in, one all the way from South Korea! An un-bee-lievably tense bee saw reigning champion Anya Soldatova (WoH) taste the sweet nectar of success in the Block I competition while Izzy Bevan (HLH) was similarly buzzing after swarming to victory to claim the Block II prize. Thank you to all the finalists, but a special mention must go to runners up Emily Burchfield (WT) and Elsa Wilkie (HH) and to the unflappable Rowan Read, former spelling bee champion and this year's pronouncer.
Ben Collins
Stunt driver, author and former Stig from Top Gear, Ben Collins zoomed in to discuss his new book on 24th November. Aston Martin: Made in Britain is a novelisation of the history of the iconic brand, featuring none other than the Old Cliftonian W. O. Bentley. The History Society, the Creative Writing Group, aspiring engineers and sports car enthusiasts gathered to ask Ben about how he went about bringing historical figures to life, his work as a stunt driver for Bond and Batman and, of course, his role as the man in the white suit. Well done to Louis Afford Lessof for a wonderfully researched introduction and to Llewellyn Evans for chairing the event, conducting a superb interview and fielding questions from fans.
Matt Killeen
The Third and Fourth Forms enjoyed a virtual visit from best-selling author Matt Killeen on 6th November. Matt's hugely informative talk focused on the real life teenage freedom fighters who inspired his gripping World War II thriller, Orphan Monster Spy. Matt also found time to run an engaging writing workshop for our Creative Writing Group, which examined the idea of the hero's journey and considered what makes a compelling opening. He also judged our fictional diary writing competition, describing the winning entry as "a truly compelling piece of fantasy". Well done to Maddy Haimes who has won signed copies of Orphan Monster Spy and Devil Darling Spy!