The Percival Library News: September/October
28 October 2020
Library Inductions
The librarians went on the road this year, taking their induction sessions across the Close to the English Department. Designed to showcase everything on offer in the Percival Library, pupils were quizzed about a fun-filled informational film created by the student librarians, followed by a tremendously tricky round of 'Heads Up'. Mr Thomas' class were triumphant, but goodie bags of hand-picked Literary Lottery books ensured that everyone was a winner!
National Poetry Day
With National Poetry Day falling on 1st October this year, the library decided to combine the annual poetry festivities with the celebration of Black History Month. The Percival Poetry Party of previous years was moved to English classrooms where, instead of live performances in the library, a collection of inspiring and thought-provoking spoken word performance videos were watched and discussed during lessons. Everyone in the Fourth Form was provided with a 'Poetry Party Pack' containing a bookmark and postcard featuring a selection of Black British poets, an activity focusing on identity and the power of our names and, to round things off nicely, a pocket-sized packet of Party Rings!
Black History Month
The library is marking Black History Month this October with a celebration of black writers. From Akala to Benjamin Zephaniah, we are displaying an excellent collection of literary works alongside powerful and important quotations from the authors themselves. We have also launched our first Anti-Racism Reading Group this month, a pupils-led society that aims to start important discussions on racial injustice. The pupils have just chosen their first book, James Baldwin's seminal essay collection, The Fire Next Time.
Shoktoberfest X
The annual spooktacular moved from the library to the Redgrave theatre for its tenth year, with a socially distanced Shoktoberfest screening of the supernatural comedy classic, Ghostbusters. Undead usherettes led pupils into an atmospherically lit theatre to watch as Stants, Spengler, Zeddemore and Venkman set about vanquishing the servants of Gozer the Gozerian. Goodie bags were a final (trick or) treat for the Third Form as they headed home for a restful night's sleep: they ain't afraid of no ghosts!
Library Update
It's been wonderful to welcome pupils to the Percival Library this term, with a few important changes to keep everyone safe. The library is open for hands-free socially distanced book browsing and we've introduced new services such as Click 'n' Collect reservations and book delivery to Houses. Sixth Form pupils can now book a table online for their study periods or for evening library prep. We've also been welcoming pupils in younger year groups to work or read after their lunch or after lessons. Normal service has been resumed in terms of our opening hours and Sixth Form pupils can now use the library until 9pm (as long as they've booked a table in advance).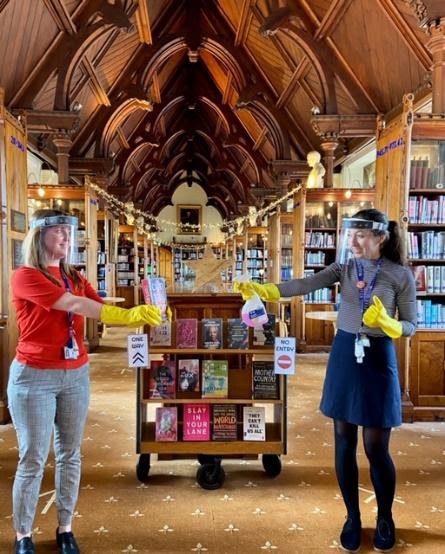 Seasonal Book Fair
The Percival Library's third Seasonal Book Fair is nearly here! Towards the end of November pupils will have the opportunity to browse a selection of books curated by the librarians and the bibliophiles at local independent bookshop, Storysmith. Keep an eye out for an email containing more details.