OC Hannah Leith completes gruelling 171km UTMB ultra marathon
23 October 2019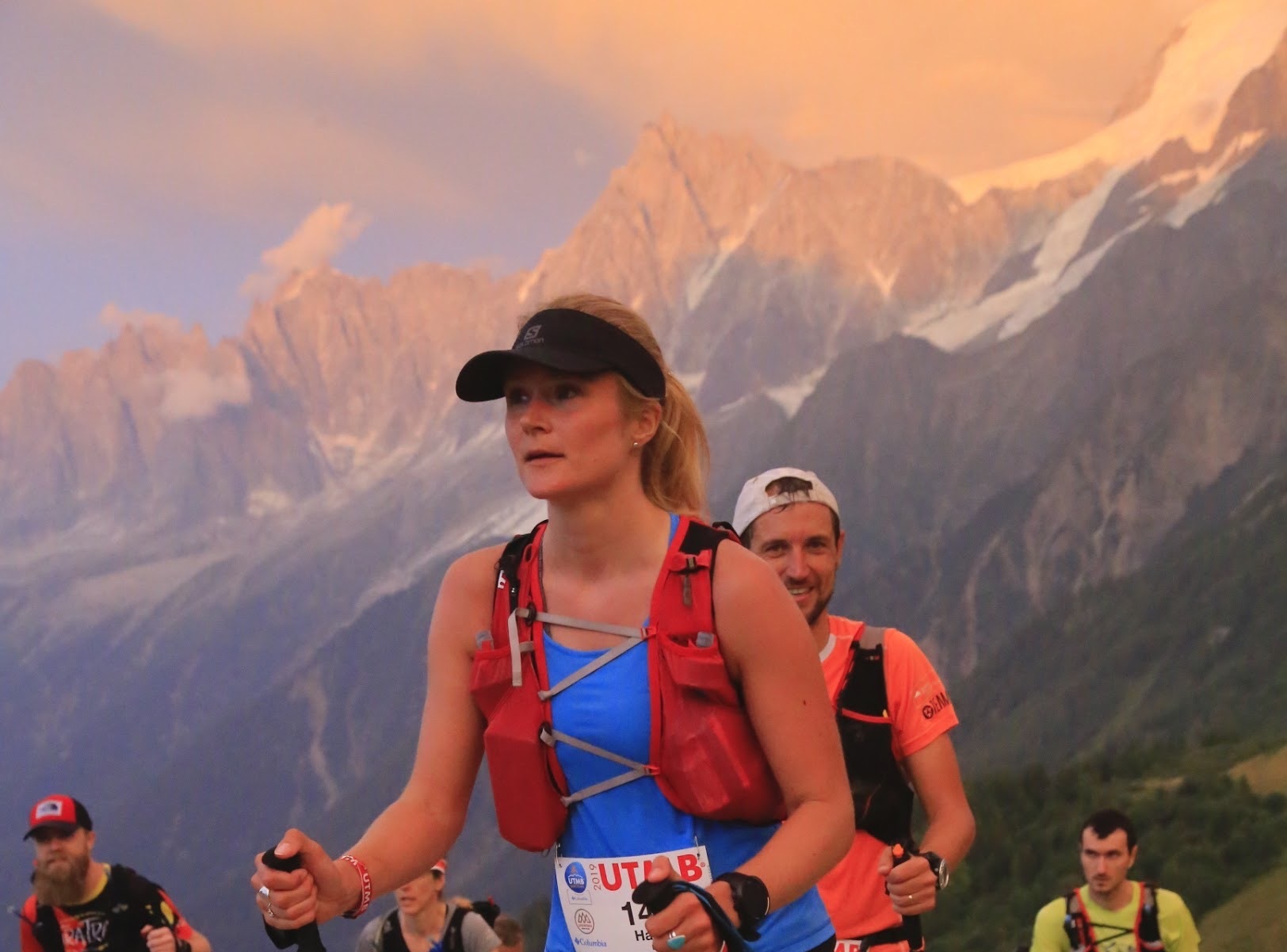 We are incredibly proud of OC Hannah Leith who recently completed the Ultra Trail Mont Blanc (UTMB). Starting and finishing in the small mountain town of Chamonix, the UTMB race is a 171km ultra marathon circumnavigating Mont Blanc. During this demanding race, runners must endure over 10,000 metres of elevation (to put that into context, Mount Everest is 8,848m!) and traverse through three countries; France, Italy, and Switzerland.
Dubbed the race of a lifetime, the UTMB sees top ultra athletes compete from all over the world and is at the top of many runners' bucket lists. We spoke to Hannah after her success to find out more about her motives and her experience during this testing event.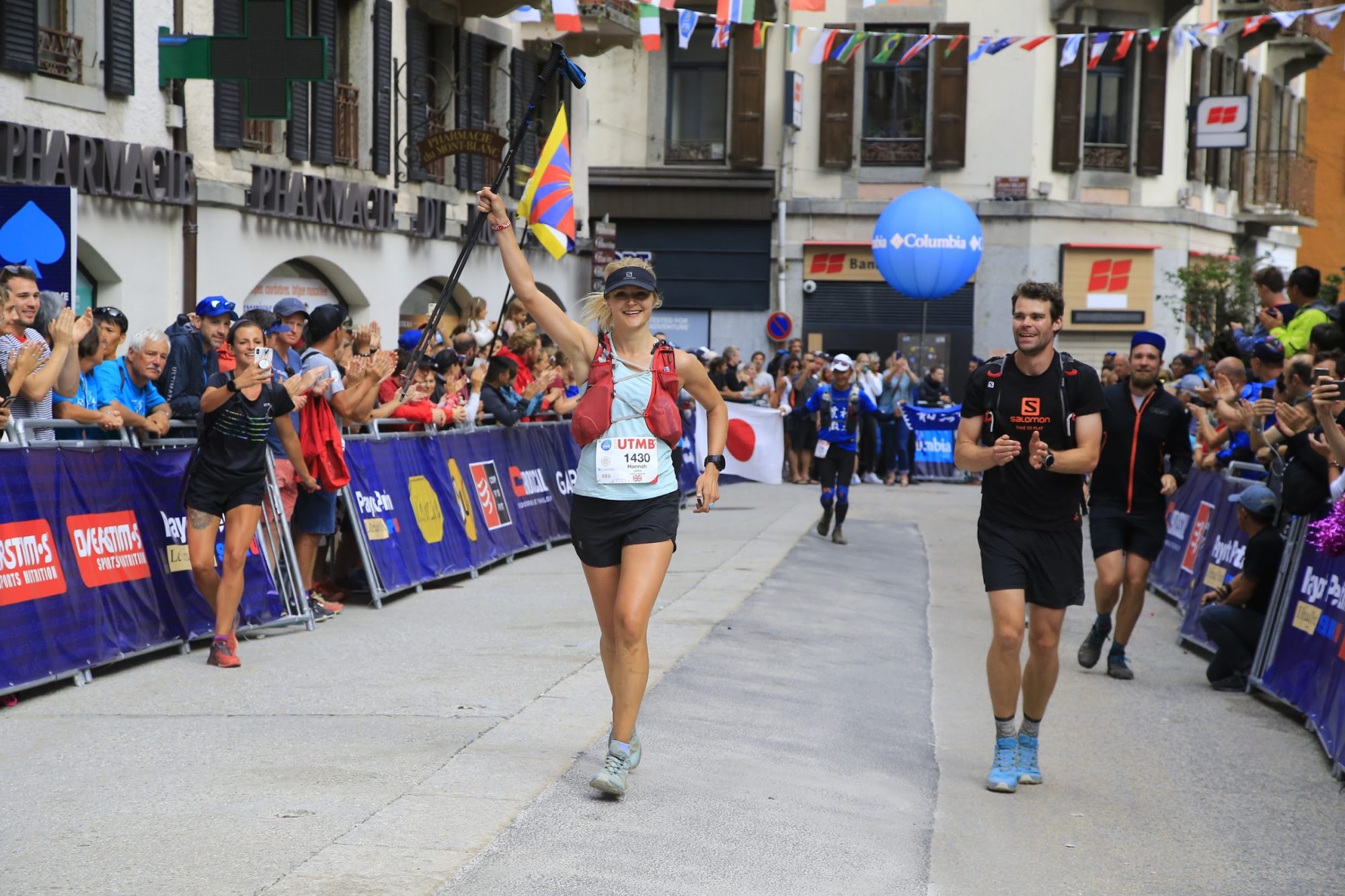 Why did you decide to take part in the UTMB?
I love to challenge myself and see what I'm capable of by pushing my limits each year with new distances, however, I didn't actually plan to take part in UTMB so soon. I started running in 2014 and took part in my first ultra-marathon in 2016 – I thought I would have another year of racing before I felt ready to take on such a big challenge.
In order to enter UTMB you need to build up points by completing other difficult ultra marathons over a two-year period. Last year, without planning to, I managed to build up enough points by completing other mountain races, so I decided to enter the ballot. It usually takes a couple of years to get a place as it's so over-subscribed so I thought I would apply in order to get a better chance in 2020. However, I managed to get a spot first time! I didn't feel ready, but so many runners dream of running UTMB so I just had to give it a go.
What training did you do in the lead up to the event?
I didn't have an ideal lead up to the event. I had an accident on holiday in January, just before I found out I had got a place in the race, and started the year on crutches! I wasn't able to start running again until April so I spent most of this year slowly building up fitness and strength. I worked with a coach to help me stick to a consistent plan and to get me ready in time for the race in August. Living in London makes it tricky to train for a mountain race, so I spent a lot of time in Richmond Park in London going up and down the biggest hill I could find! I did manage to get out to the Alps for some training too which really helped.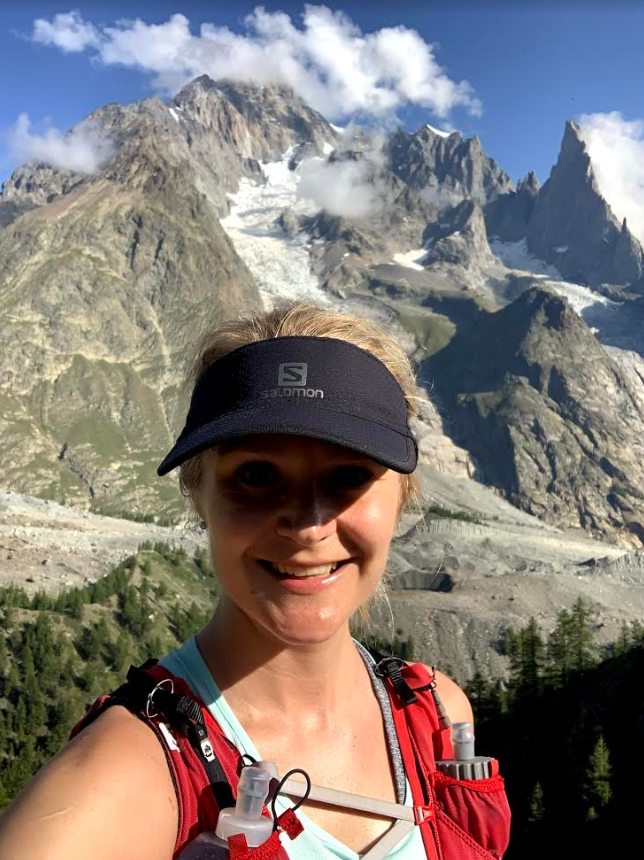 You talk of an accident earlier this year; what happened and did this affect your training at all?
In January, I was on a skiing holiday in Austria when I bashed my foot into the corner of a fireplace (whilst reaching for some chocolate!) and snapped a toe off. It was a silly accident which meant I couldn't train for a few months. This was really hard to get through mentally, but once I was able to run again I kept motivated with the UTMB as a huge goal to work towards. Just as I started my training again in April, I unfortunately had another accident on a skiing trip, which led to concussion but luckily no other damage was caused so that didn't affect my training for too long.
How did you feel the night before the event?
I was incredibly nervous! The reality of what I was about to attempt hit me and I felt completely out of my comfort zone. I knew I wasn't in peak physical fitness and I did not feel ready. The prospect of heading into the mountains for up to 46.5 hours was pretty terrifying. I didn't manage to sleep at all that night, which made me even more nervous the day of the race as I was starting it already feeling so exhausted.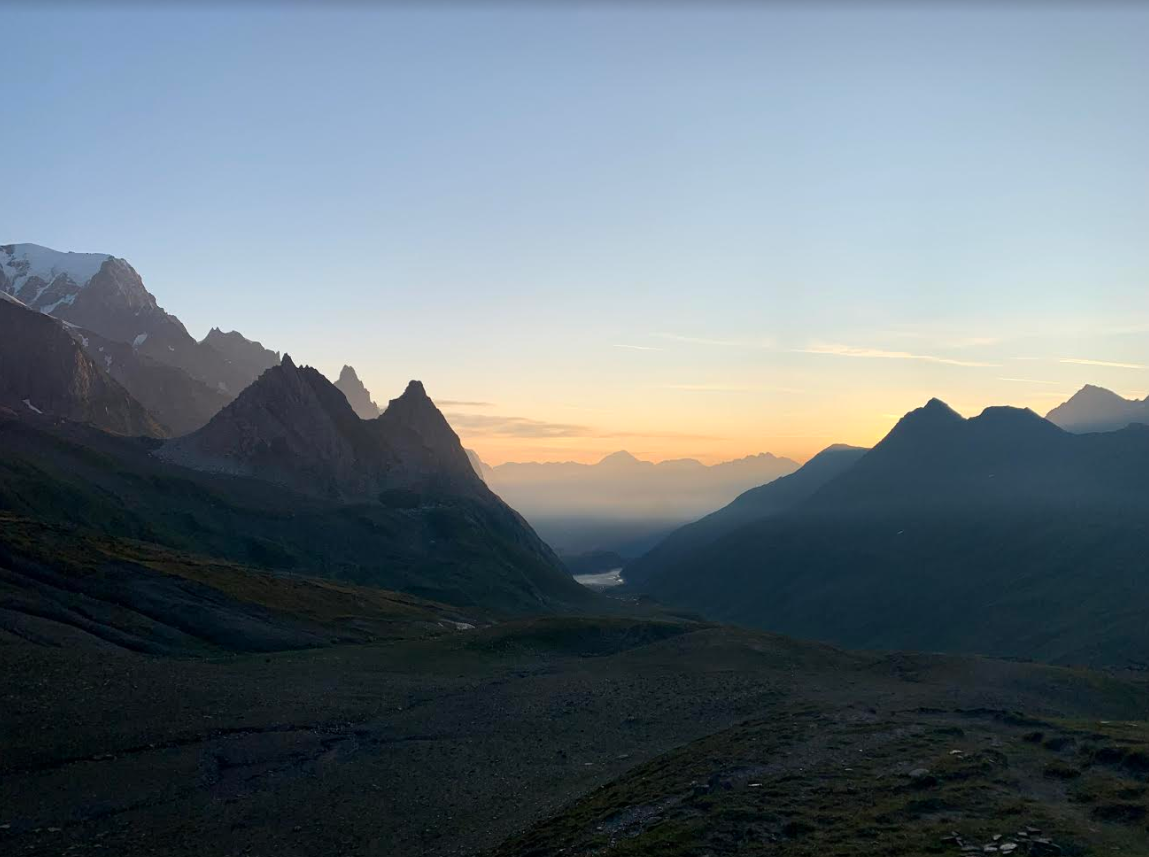 The mountainous scenery looked absolutely out of this world, what was your favourite view on the route?
The mountains around Mont Blanc are absolutely incredible! My favourite mountain views from the race were when I reached the Italian Alps near Courmayeur. I did a race last year which started in the same area and I had been looking forward to seeing the same views again. Although I was struggling at that point in the race, I still managed to appreciate the dramatic peaks towering over the valley below.
171km must have been gruelling work, how did you keep yourself going physically and mentally during the run?
It really was gruelling work, and I had to dig very deep into the pain cave to get to through every hour of the race. I made sure I didn't ever stop for too long at aid stations and only sat down if I needed to change my socks or shoes – this was to avoid my legs seizing up. Mentally, I think I went into survival mode and although every bone in my body wanted me to stop there was no way I would have let myself quit. It is incredible how powerful the mind is to push though that level of pain and exhaustion.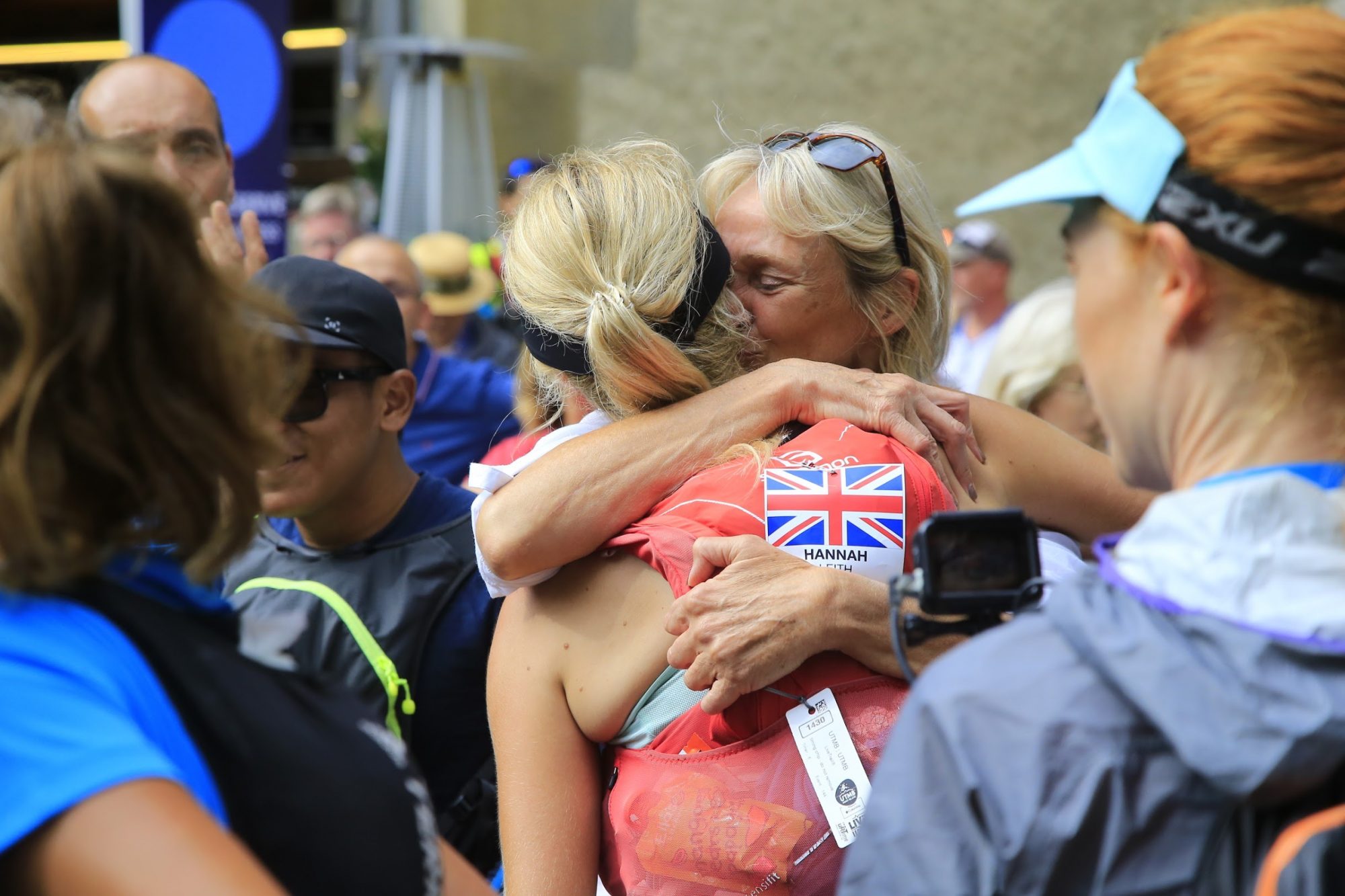 What was going through your mind during those last few footsteps over the finish line?
It was such a relief to get to the finish line after so long on my feet. Towards the end of the race I had been cutting it very fine with the cut-off times (UTMB has strict cut-off times at checkpoints throughout the race and if you don't meet them you aren't allowed to continue). During the last climb of the race, I was struggling to lift my legs up the steep boulders because my quads were so damaged so I had to use my running poles as crutches. I didn't think I was going to make it, so when I did finally reach the finish line hours later I was amazed, relieved, and very emotional! You have to run through Chamonix town centre to reach the finish line and the streets were lined with people clapping me in. It was an incredible experience.
A massive congratulations on your achievement, in what time did you finish the route?
Thank you! I finished in 46 hours 22 minutes. It took longer than I expected and although in races I usually get quite competitive I was just so happy to complete UTMB. My time and my place was irrelevant to me by the time I got to the end of the race.
Out of the experience as a whole, what have you learned and what will you take forward with you?
I have learned that a positive mental attitude is essential if you want to really push yourself and this can relate to any area of your life, not just running. I have also learned that I am so much stronger than I thought and that it is possible to stay on my feet with zero sleep for over 46 hours!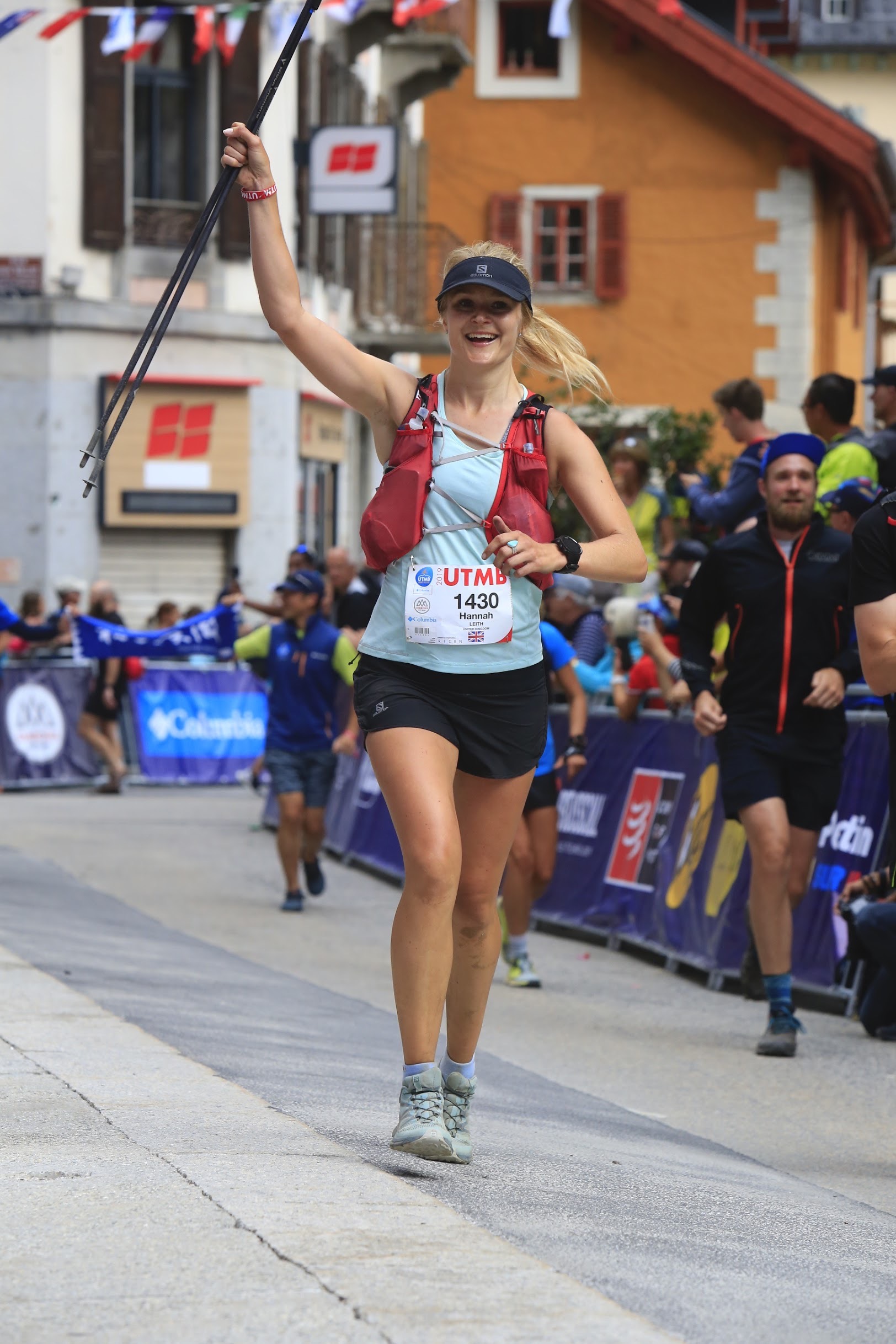 What advice would you pass on to anyone wanting to take part in the UTMB?
Firstly, I would say go for it! It is honestly the most incredible race and is something you will never ever forget. My advice would be to build up slowly with race distances, spend a lot of time working on your strength, get lots of practice with running in the mountains and make sure you really believe in yourself before you stand on that start line!
What's next! Do you have any plans or ideas for new challenges?
I have been asked this a lot recently! My next challenge is a multi-stage run in the Azores this November. It's organised by TRIBE, with the aim of raising £50,000 for the TRIBE Freedom Foundation to fight modern slavery and human trafficking. The event is 270km, over six days and has similar elevation to UTMB. A multi-stage run will be a very different type of challenge and I'm really looking forward to it!